2 / Storm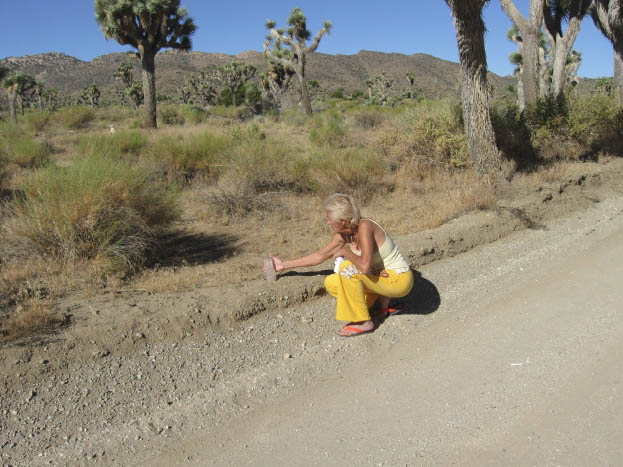 Madaline at Joshua Tree, California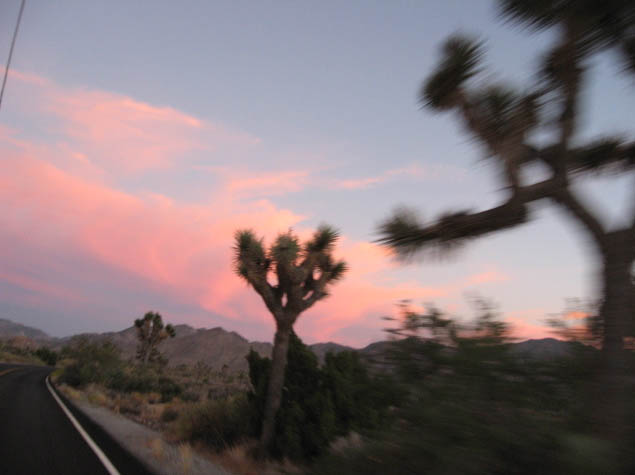 Joshua Tree, California


Yesterday I woke knowing that 'today' was the day to alter a habit, smoking!
I've started and stopped so many times I can't recall the number.
Listening to the thoughts coming from my mind, telling me "it's ok to have one"
I didn't listen, not now, not at any time soon. Today, I woke after a wonderful rain storm
that started around 4 this morning. Listening, the windows open, door open, sounds on the roof.
Bliss, sleep came again, the dreams were 'strange'.
I've gone to 'dream analysis' classes, I'm clear that everything 'is me'.
My body is experiencing the change, from having the tobacco to not.
Taking Spirit for his walk, (seems they are getting shorter as he ages) coming back,
taking myself on a longer, quicker walk. About two miles, shorter then I'm used to.
Yet, I've altered my walks to accommodate Spirit.
Now, I bring him home, and go out alone.
I haven't heard from Ian in a while, speaking with him, asking if he were near. I felt tears well up. ( as I do now)
I'm grateful I have a wonderful place to live, that Melanie has offered her home, opened her heart to me.
I cook healthy, she said she feels so much better since I've been creating vegetarian meals.
Blend 'Green Drinks' in the morning.
She's given up all the 'white' stuff she used to eat.
Her skin looks healthy, her eyes are brighter.
Each day I receive a note from The Universe. Being I felt off balance, then
reading what 'Mike' aka The Universe said, I was compelled to share this with you.
The house/land I had my sights on for the Safe House sold to another.
Of course its all perfect. What will be presented to me will also be perfect.
It's my human condition that wants for it to have happened 'yesterday' . . .
~ ~ ~ ~ ~ ~ ~ ~ ~ ~ ~ ~ ~ ~ ~ ~ ~ ~ ~ ~ ~ ~ ~ ~ ~ ~ ~ ~ ~ ~ ~ ~ ~

"What if, Madaline, loneliness was simply a feeling of impatience, telepathically sent to you by friends
you've yet to meet, urging you to go out more, do more, and get involved, so that life's serendipities
could bring you together... Would you still feel alone?

What if illness was just the signal a healthy body sent to urge clarification of your thoughts, feelings,
and dreams... Would you still, at times, think of yours as diseased?

What if feelings of uncertainty and confusion were only reminders that you have options, that there's
no hurry, and that everything is as it should be... Would you still feel disadvantaged?

What if mistakes and failures only ever happened when your life was about to get better than it's
ever been before... Would you still call them mistakes and failures?

And what if poverty and lack were simply demonstrations of your manifesting prowess, as "difficult"
to acquire as wealth and abundance... Would they still cause you to feel powerless?

Well, whatever you feel, Madaline, I still consider you my only begotten, my champion, and my equal."
Are we close, or what?
The Universe

~~~~~~~~~~~~~~~~~~~~~~~~~~~~~~~~~~~~~~~~~~~~~~~~~~~~

Galaptic

'The Formulation of LOVE'

How does 'love' arrive?

Most likely, when you least expected it.

Minding my own business.
Enjoy strolling the lane,
Feeling warmth from the Sun,
in wonderment with 'this' moments expression.

Love, the feeling washes over me,
kissed sweetly from morning mist,
the grandness creates the experience,
fountains overflow.

Feelings, touch them, smell them,
honoring, being honored,
mountains move,
still is my heart.

Madaline '10

~~~~~~~~~~~~~~~~~~~~~~~~~~~~~~~~~~~~~~~~~~~~~~~~~~~~

Fog rolling in, mist from the ocean spraying on my face.
Feeling the warm sand on my feet, smelling sea air, how wonder this all is.
The fog horn blows, deep sound from afar.
Harmony with the divine energy that continues to engulf every cell of my being.
Melanie and I started our road trip on 12 / Dog (Oc)
perfect day, destination; unknown.
Headed toward California, first stop
Joshua Tree, Mother Earth at her finest.
Driving thru Joshua Tree National Forest, a two hr. drive.
Bolders the size of large houses. With each turn the visita alters
exposing one magnificent view after another.
Stopping at the camp site, the decision to stay the night was thwarted,
the air and heat was beyond my comfort zone, we moved on.
Next stop Santa Monica, we stayed with daughter Jo-e for a few days.
Enjoying my family, seeing my grandson Cole who had just returned
from his three week stay in Japan. He sure chose a wonderful life.

My newest grand daughter Makenzie has chosen a life that has been predicted
by the doctors as having both physical and emotional challenges.
She has a growth on her brain.
I'm clear that when a child 'chooses' whom they are to be,
they know that it is for the desire to raise the consciousness for
all those who will come in contact with her.
When we take energy that contains 'materialistic' properties, rather than
internal energy, soul energy, seems to me that the 'divine' force will come and show
those an alternative way of being.
This is what occurred when I spoke about moving to Asheville NC.
When the 3rd road block came, it was clear that I wasn't meant to leave Arizona.
No struggle, no muss, no fuss.
Melanie and I had been talking about taking a road trip for about a year.
Now is the perfect time.
Gary is staying with Spirit and Jazzy, (Melanie's sweet kitty)
the home front is taken care of.

The physical fog is a great metaphor for life, one's vision is obscured by this 'veil'
that contains a small portion from which to view life.
One can perceive this from what ever point of view you are seeing your world.
Lifting the veil of illusion, being how we've always witnessed our reality,

how we monitor our belief system, judgments, self acceptance or denial.
As of today, 8 / Storm (Cauac)
there are 421 until 28th October 2011
Now is the time to gather all that you've experienced, keep what supports
you, and discard the rest.
I call this 'Internal House Clearing'
If not now, when?
When my path altered from moving to Asheville to staying in Arizona,
I asked my guides, "now what" my focus on the 'Safe House'
is stronger then ever.

My guides instructed me to write questions.
These questions are there to assist the mind, to open channels that hadn't been viewed
in this evolution, I'm seeing small groups, around 5 or 6, in their mid teens.
Starting off with a collective prayer, introducing one another, having a collective
agreement how the 'session' will proceed.
My desire is to have this filmed so the children can see themselves, hear what they said, as well as the group.
There are too may suicides amongst these young people, being they don't have,
or can't see what their purpose is, their decision to take their life feels like the only solution.

This has become an epidemic.
Without passion for 'something', something that has you want to participate in life,
something that gets you out of bed in the morning, someone to talk to about your passion,
what would be the purpose?
With over eight million people out of work, what will happen when these teens finish school,

what hope do they have in getting a 'job'?

The Safe House is a place where what ever 'trade' you're interested in can and will be available.
At this moment, the only thing missing is the land to create the Safe House.
I've found a small piece 2 ½ acres, its a start.
The funding will appear at the perfect time.

I walk by the house, it calls to me, I speak to her, letting her know that I'm committed,

that this is my passion, this is my mission, this is what Ian and I had been speaking about for years.

..A community needs a soul if it is to become a true home for human beings.
You, the people must give it this soul. --Pope Jean Paul II

witnessing this evolution, where we were 'brain' washed to believe that being
independent would give us more power.
I bought into this hook, line, and sinker.
When I was in my 20's, looking at how I had viewed my world, one where I was born,

growing up, moving into, what we call middle age, then die. I knew that this
wouldn't, couldn't work for me, it was one of many 'illusions' that

lifted like when the sun comes out, the warmth melts the fog.
A village runs smoothly when we're INTER-DEPENDANT
working the land, planting gardens, tending to the children, creating 'magic'
with the uniqueness that each of us holds, sharing the load, contentment
permeates with all the love that one can hold.

Seeing I, as all of us had, (without our conscious thought) that this is 'how' it is.
We're born, grow old, and die.
I raised my arm to the sky, holding an eraser, and proceeded to erase my name from what ever list I was on.

When I shared this with friends, they went outside and did the same. My consciousness became quite

clear in that moment. I and only I, will decide when or if I leave my physical body.

Source has a task for each of us, are you ready?

Are you willing?

I know we're all able...

our collective journey continues

Blessings Dear One's

~~~~~~~~~~~~~~~~~~~~~~~~~~~~~~~~~~~~~~~~~~~~~~~~
12 / Wisdom Cib
THE TEXT of the GOSPEL of THOMAS

The Disciples asked Yeshua:
"Tell us, what will be our end?"
Yeshua answered:


What do you know of the beginning so that you now seek the end?
Where the beginning is, the end will also be.
Blessed are those who abide in the beginning, for they will know the end and will not taste death.


What do we know about 'the beginning'?
Where will it end?
Will it end?


How far can this energy go before it implodes?


Yes, our light has become brighter, has become more congruent with our soul.
Yet, there are those whom continue to exert negative energy, wanting to hold many at bay.
Reading news papers, watching TV, and believing what is being said.
Believing it to the point where one might find that there isn't anything they can do.


The difference between using words that empower the self,
words that bring comfort, or discomfort.
Worry takes one away from 'center' point.
Center point being the foundation,
LOVE
the foundation of all there is, all that ever was, and will be.
"There is more to life than just surviving it. Inside each turbulence there is a calm a sliver of light buried in the darkness."
Norman Ollestad
from his book:
Crazy for the Storm
a Memoir of Survival

I met Norman when he was around 8 yrs old.
His story and writing is riveting.
Eleanor played a huge part in Normans life, he came to her when he was three.
She had a nursery school in Pacific Palisades California.

In 1975 or 6 a friend told me about Eleanor, that she was
starting a group to talk about life's real issues.
The session was for 4 weeks.
At the end of the four weeks, I said, "I want to continue"
being my quest ever since my 10th year was to find words that would have my life
feel as though it had more meaning then what I had seen to that date.
We continued, for 10 years, we met every Tuesday.
The same 5 women.
We witnessed every emotion possible.
We had one another for support, nurturing, sharing everything, knowing we were 'safe'.

We explored every topic that came to mind.
Eleanor guided us thru meditations, guided us thru all that our lives were presenting.

Partners separating, new business endeavors.
We shared laughter and tears.
Norman calls Eleanor his 'second' mom.
A few years ago she had a stroke, the right side of her body no longer cooperates with her mind.
There's not one moment of complaint.
Her mind is sharp, her memory is clear. It's the words that come that aren't always clear to hear.
She is a beacon of light.
On our road trip, we went to visit.
She is 85 now, husband Lee 92, he plays tennis 3 times a week.
They are amazing.
Eleanor was my life line.
I haven't a clue as to where my life would be if I hadn't met Eleanor.




~~~~~~~~~~~~~~~~~~~~~~~~~~~~~~~~~~~~~~~~~~~~~~~~~~~~

Galaptic


'The Formulation of LOVE'


How does 'love' arrive?


Most likely, when you least expected it.


Minding my own business.

Enjoy strolling the lane,

Feeling warmth from the Sun,

in wonderment with 'this' moments expression.


Love, the feeling washes over me,

kissed sweetly from morning mist,

the grandness creates the experience,

fountains overflow.


Feelings, touch them, smell them,

honoring, being honored,

mountains move,

still is my heart.


Madaline '10


~~~~~~~~~~~~~~~~~~~~~~~~~~~~~~~~~~~~~~~~~~~~~~~~~~~~

Fog rolling in, mist from the ocean spraying on my face.

Feeling the warm sand on my feet, smelling sea air, how wonder this all is.

The fog horn blows, deep sound from afar.

Harmony with the divine energy that continues to engulf every cell of my being.

Melanie and I started our road trip on 12 / Dog (Oc)

perfect day, destination; unknown.

Headed toward California, first stop

Joshua Tree, Mother Earth at her finest.

Driving thru Joshua Tree National Forest, a two hr. drive.

Bolders the size of large houses. With each turn the visita alters

exposing one magnificent view after another.

Stopping at the camp site, the decision to stay the night was thwarted,

the air and heat was beyond my comfort zone, we moved on.

Next stop Santa Monica, we stayed with daughter Jo-e for a few days.

Enjoying my family, seeing my grandson Cole who had just returned

from his three week stay in Japan. He sure chose a wonderful life.


My newest grand daughter Makenzie has chosen a life that has been predicted

by the doctors as having both physical and emotional challenges.

She has a growth on her brain.

I'm clear that when a child 'chooses' whom they are to be,
they know that it is for the desire to raise the consciousness for all those who will come in contact with her.

When we take energy that contains 'materialistic' properties, rather than

internal energy, soul energy, seems to me that the 'divine' force will come and show

those an alternative way of being.

This is what occurred when I spoke about moving to Asheville NC.

When the 3rd road block came, it was clear that I wasn't meant to leave Arizona.

No struggle, no muss, no fuss.

Melanie and I had been talking about taking a road trip for about a year.

Now is the perfect time.

Gary is staying with Spirit and Jazzy, (Melanie's sweet kitty)

the home front is taken care of.


The physical fog is a great metaphor for life, one's vision is obscured by this 'veil'

that contains a small portion from which to view life.

One can perceive this from what ever point of view you are seeing your world.

Lifting the veil of illusion, being how we've always witnessed our reality,

how we monitor our belief system, judgments, self acceptance or denial.

As of today, 8 / Storm (Cauac)

there are 421 until 28th October 2011

Now is the time to gather all that you've experienced, keep what supports

you, and discard the rest.

I call this 'Internal House Clearing'

If not now, when?

When my path altered from moving to Asheville to staying in Arizona,

I asked my guides, "now what" my focus on the 'Safe House'

is stronger then ever.


My guides instructed me to write questions.

These questions are there to assist the mind, to open channels that hadn't been viewed

in this evolution, I'm seeing small groups, around 5 or 6, in their mid teens.

Starting off with a collective prayer, introducing one another, having a collective

agreement how the 'session' will proceed.

My desire is to have this filmed so the children can see themselves, hear what they said, as well as the group.

There are too may suicides amongst these young people, being they don't have,
or can't see what their purpose is, their decision to take their life feels like the only solution.


This has become an epidemic.

Without passion for 'something', something that has you want to participate in life,

something that gets you out of bed in the morning, someone to talk to about your passion, what would be the purpose?

With over eight million people out of work, what will happen when these teens finish school,

what hope do they have in getting a 'job'?


The Safe House is a place where what ever 'trade' you're interested in can and will be available.

At this moment, the only thing missing is the land to create the Safe House.

I've found a small piece 2 ½ acres, its a start.

The funding will appear at the perfect time.


I walk by the house, it calls to me, I speak to her, letting her know that I'm committed,

that this is my passion, this is my mission, this is what Ian and I had been speaking about for years.


..A community needs a soul if it is to become a true home for human beings.
You, the people must give it this soul. --Pope Jean Paul II


witnessing this evolution, where we were 'brain' washed to believe that being

independent would give us more power.

I bought into this hook, line, and sinker.

When I was in my 20's, looking at how I had viewed my world, one where I was born,

growing up, moving into, what we call middle age, then die. I knew that this

wouldn't, couldn't work for me, it was one of many 'illusions' that

lifted like when the sun comes out, the warmth melts the fog.

A village runs smoothly when we're INTER-DEPENDANT

working the land, planting gardens, tending to the children, creating 'magic'

with the uniqueness that each of us holds, sharing the load, contentment

permeates with all the love that one can hold.


Seeing I, as all of us had, (without our conscious thought) that this is 'how' it is.

We're born, grow old, and die.

I raised my arm to the sky, holding an eraser, and proceeded to erase my name from what ever list I was on.

When I shared this with friends, they went outside and did the same. My consciousness became quite

clear in that moment. I and only I, will decide when or if I leave my physical body.


Source has a task for each of us, are you ready?


Are you willing?


I know we're all able...


our collective journey continues


Blessings Dear One's