View this announcement
on line: Click here







June 16, 2015




Mayan Majix Store
25% OFF SALE

Store Wide Sale, EXTENDED Thru June 19th, 2015

Must Use Coupon Code: SWS15

Can not be combined with other coupons
***(Sale does not include Beaded Bracelets)***

FREE SHIPPING AVAILABLE

Click Here

Tzolkin Trecena Notes –1 Deer (Manik)
Day 27 of the 260 Day Tzolkin
Gregorian Date: June 16, 2015
Year Bearer: 3 Road (Eb)

Trecenas are thirteen-day periods in the Tzolkin. Each Trecena starts with the Number 1, but with
a different Day Glyph. As a wave of the Thirteen Heavens, the underlying energy is governed by
the First Day Glyph of the Trecena and influences all thirteen successive Day Glyphs. Being aware
of the predominant energy of the First Day of the Trecena, we can align our intentions with that
energy and allow our goals to manifest.

This Trecena starts with 1 Manik (Deer/Healing Hand) - instinctual, intuitive, ritual dance, stabilizes
the four directions, purifies spirit to rise above limitations.

Deer energy represents the aspect of spiritual leadership, a day that opens a portal for all to express the holiness and sanctity of life. Many shamanic rituals were performed on Deer Days giving thanks to the Ancestors. Shamans themselves were initiated on the most sacred day of all, 8 Deer. The Deer Dance Festival was an ancient ritual dance performed annually. It is still performed today by many native cultures and symbolizes equality and balance between man and nature, hunter and hunted, the sacred rhythm of the cosmic dance.

Deer energy is the silence of all that has gone before and all that will happen in the future reflected
in the eyes of the deer. The glyph itself shows a healing hand. One interpretation is that the hand
is holding the spark of life, the thread that connects our past and future with our present moment.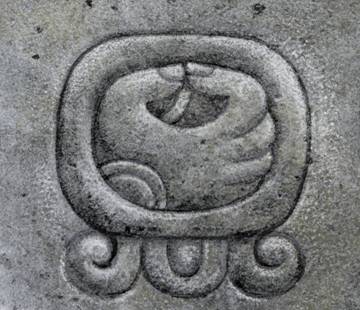 © 2006 Judith Ann Griffith
The energy of the Deer uplifts our spirit to rise above our worldly limitations. This can be an
empowering time to speak freely about strongly held beliefs for the good of the community, family
and/or self. This is especially important at this time because of the shift which Earth is presently
experiencing. No longer can things remain the same with the same paradigms controlling events.
Now is the time for change and now is the time for that change to be oriented toward the good
of humanity (not corporations). Let's look to our ancestors for the knowledge and wisdom needed
in the present moment to visualize and dream a new future.

Another representation of the Trecena is that of a creative wave beginning at 1 and ending at 13,
with the numbers 6, 7 and 8 representing the crest of the wave. The crest could be interpreted as
a strong influential energy, although the underlying influence on the Trecena would still rest in the
beginning. Deer energy underlies (or influences) the days of 6 Eb, the ladder or pyramid of the Road
of Life; 7 Ben, the pillar or World Tree, source of all inner power; and 8 Ix, the Jaguar, Lord of
Darkness, who rules the Underworld or our shadow selves, and also the Lord of four-legged animals.
The sacred protection and groundedness of Deer energy provides an opportunity to travel our
spiritual path of inner exploration without fear. We are then free to express our heart-felt beliefs
for the good of humanity.

As we journey through each day of this Trecena:

| | |
| --- | --- |
| Trecena Count | Gregorian Date |
| | |
| | June 16, 2015 |
| | |
| | |
| | |
| | |
| | |
| | |
| | |
| | |
| | |
| | |
| | |
| | |
Utilize the sacred energy of Deer to connect with your spirituality. This is a great time to perform
ceremony, ritual and dance giving thanks to the Ancestors for the gift of life and for the opportunity
to live a new future on earth through expressions of love and peace.





In Lak'ech (I am another you),

William and Viola

www.tzolkincalendar.com

©2007 William and Viola Welsch
1) Matty's Journal has been updated - Click here


2)
New World Birth Video for 1 - Deer (Manik) by Scott Davis

- Click here


3) Deer Trecena by Kenneth Johnson - Click here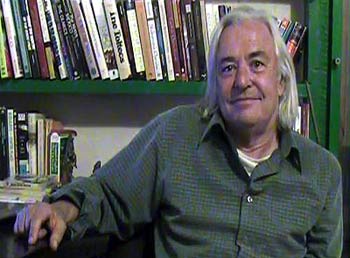 Mayan Calendar Astrological Readings


Half Price Special


In honor of certain upcoming days that were sacred to his teachers, Ken will be offering all Mayan Calendar Astrology services at

half price

for a limited time.
Click here
4) 1-Manik trecena daily digest - By Eagle Solomon - Click here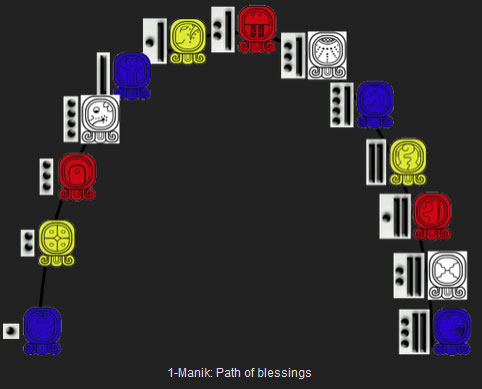 To be born on the 1-Manik trecena and sing about not going anywhere is like a contradiction in terms. Manik stands for perpetual travels out in the wild, unknown parts and less-trodden paths of the land. The spirit of the four-legged animals is embodied on this plane to pace the earth within neighboring woods and well beyond them. When a stag (another word for Manik) is not going anywhere he is probably too busy protecting his community and offspring diligently.
Click here
to read more



5)
Maya Temples of Transformation Tour with Freddy Silva & Miguel Angel Vergara
Yucatan: Ancient Academy of the Spirit - December 5 - 13, 2015
- Click Here
Travel with best-selling author and one of the world's leading researchers of sacred sites, Freddy Silva, and Maya Master Teacher Miguel Angel Vergara on an unforgettable journey to the Yucatan this December! You will travel through the Yucatan, from Ek Balam to Chichen Itza, Uxmal to Mayapan, Labnah to Oxkintok, with like-minded participants who are sure to become lifelong friends, experiencing the very best culture, history and cuisine this sacred region of Mexico has to offer.
Ancient texts describe temples as places where a person may be "transformed into a god, into a bright star." If so, then the enigmatic temples of the Yucatan fulfil that promise, and more. On this Mexican peninsula stand hundreds of temples and pyramids, each one an ancient academy dedicated to the spiritual elevation of those on the quest for personal transformation. They embody a cult of knowledge maintained by the Maya and the Olmec who inherited it from an even older, Golden Age when gods walked among humans.

These ancient ideas are not an outdated set of beliefs. Like the temples that portray them, they are eternal, and more importantly, they are more relevant today than ever, as the modern seeker searches for tools to navigate this discombobulated modern culture. Join us as we unlock the secrets of these extraordinary temples through talks, meditations, rituals and ceremonies. Learn about the enduring significance of the temple sites for our world today and for your own inner journey of transformation.

Click Here to learn more about our sacred journey to the Maya Lands of Yucatan, Mexico ~ Maya Temples of Transformation with Freddy Silva & Miguel Angel Vergara, December 5-13, 2015.

You may also enjoy reading our recent blog interview with Freddy Silva!

Mayan Majix Store
Your support is greatly appreciated!
Click here
Now offering Over 25 types Incense!
FREE SHIPPING AVAILABLE

Click Here




Click here


Mayan Scarves





Mayan Jewelry

If this announcement has been forwarded to you, go to the sign up page to join our newsletter e-list. Or you can e-mail me at admin@mayanmajix.com and I can sign you up.

Thanks so much for your support and WELCOME TO THE EVOLUTION!



MIKE
1 - Cauac
webmaster
Mayan Majix
http://www.mayanmajix.com
admin@mayanmajix.com
Twitter: @ Mayan_Majix
Facebook