To view this announcement on line: click here





January 28 , 2012


Tzolkin Trecena Notes – 1 Road (EB)
Day 92 of the 260 Day Tzolkin
Gregorian Date: January 28, 2012
Year Bearer: 12 Eb
Trecenas are thirteen-day periods in the Tzolkin. Each Trecena starts with the Number 1,
but with a different Day Glyph. As a wave of the Thirteen Heavens, the underlying energy
is governed by the First Day Glyph of the Trecena and influences all thirteen successive
Day Glyphs. Being aware of the predominant energy of the First Day of the Trecena, we
can align our intentions with that energy and allow our goals to manifest.
This Trecena starts with 1 Eb (Road/Grass) Abundance, Growth, Harvest, Vital Energy,
Conductor of Destiny, Spiral Ladder of Life.
Road energy symbolizes the vital dew of heaven Blood lightning that connects our physical being to our spiritual being. When you are climbing the pyramid of true destiny, You'll feel this energy of connection in your heart.
To the Ancient Maya, Eb energy symbolized the ladder that God made to descend from heaven
to earth. The Maya called the energy connecting every living being to heaven "Itz" or "dew from heaven." Climbing this ladder (symbolized by a pyramid) through the Thirteen Underworlds to Heaven was the spiritual path that all must travel. Thus Eb energy became known as the "Road
of Life"
© 2006 Judith Ann Griffith
Road energy symbolizes the vital dew of heaven Blood lightning that connects our physical
being to our spiritual being. When you are climbing the pyramid of true destiny, You'll
feel this energy of connection in your heart.
"This is the best day to begin any type of business or negotiation or to sign a contract.
It is an auspicious day to begin a trip, whether long or short. It is a very good day for
communication, especially from abroad, and for receiving news about loved ones who live
elsewhere." Carlos Barrios,The Book of Destiny.
Another representation of the Trecena is that of a creative wave beginning at 1 and ending
at 13, with the numbers 6, 7 and 8 representing the crest of the wave. The crest could be
interpreted as a strong influential energy, although the underlying influence on the Trecena
would still rest in the beginning. This Trecena crests on 6 Caban (Earth), synchronizing
our heart with Earth's natural rhythms; 7 Etznab ( Flint ), the reflection – the choices
we make; 8 Cauac (Storm), activation – purification – gathering energies within. As we move
through these accelerated times, logic cannot keep up with the multitude and speed of changes.
It is important not only to stay grounded but also to listen to your heart and let your
intuition guide you on your journey. Your true destiny is designed to be revealed when
you follow your heart.
As we journey through each day of this Trecena:
| | |
| --- | --- |
| Trecena Count | Gregorian Date |
| | |
| | January 28 |
| | January 29 |
| | January 30 |
| | January 31 |
| | February 1 |
| | February 2 |
| | February 3 |
| | February 4 |
| | February 5 |
| | February 6 |
| | February 7 |
| | February 8 |
| | February 9 |
Utilize the energy of Eb to open your heart and allow intuition to guide your choices while climbing the Spiral Ladder of Life.



1)

Matty's Journal has been updated - Click here



2)
New World Birth Video by Scott Davis -
Click here



3) 1 - Cauac

Trecena Analysis -"Purify and Teach"

by Eagle Solomon
- Click here



4) The Symbolism of the Mayan Fire Ceremony by Kenneth Johnson


"The Fire Ceremony is the most important and fundamental of all Mayan rituals. The information below comes from the notes that Anita Garr and I took directly from Don Rigoberto Itzep Chanchavac, a chuch q'ajaw (mother-father) of Momostenango, preceding the Fire Ceremony of 8 B'atz' (Yucatec: 8 Chuen) on October 24, 2010. There are many possible variations in the Fire Ceremony, depending on one's district, lineage, or individual teacher. This one is fairly typical of contemporary Momostenango."

Click here to read the full article it's really interesting.




New book by Kenneth Johnson - "Mayan Calendar Astrology: Mapping Your Inner Cosmos
"




5)

EXPO MAYA 2012

-

Momostenango, Guatemala -

March 25th thru 27th, 2012.





The Expo Maya 2012
Project
for the sixth time we will gather on the Sacred Ceremonial Hill Paklom the hilltop altar site in the center of Momostenango to celebrate a great and sacred day in the K'iche Mayan Calendar; it is the sacred New Year of exactly 260 days Tzolkin New Year."
What truly builds an identity is the shared history, the values, handicrafts and principles of a people; there should be processes for a socially shared practice. We have adopted this point of view in a way that motivates us to realize this very important activity on a very sacred day in the Mayan calendar as Wajshakib Batz' is.
Experience and an analysis of the social life of the people of Momostenango have shown us the need to create a space of an educational nature so that people can feed their heart and consciousness with the riches of our people.
Click here
to read all the details of this exciting event.
6)
Mayan Artisan Creations from Guatemala

-

This is the beginning of something really special!



We are pleased to offer a limited selection of these beautiful one of a kind scarves. Each one is hand woven on back strap looms and is unique. We will be adding different styles and colors and more complicated weavings over time. You will also see that some patterns and colors will be more regularly available because they represent designs of specific Mayan clans. We are confident you will love these beautiful scarves. Irene and other native weavers of San Antonio Aguas Calientes greatly appreciate your support and good will.

Please tell us what colors and styles you like and your suggestions for new items to add to our Mayan Market.

admin@mayanmajix.com


Mayan Textiles
click here to read about the Mayan weavers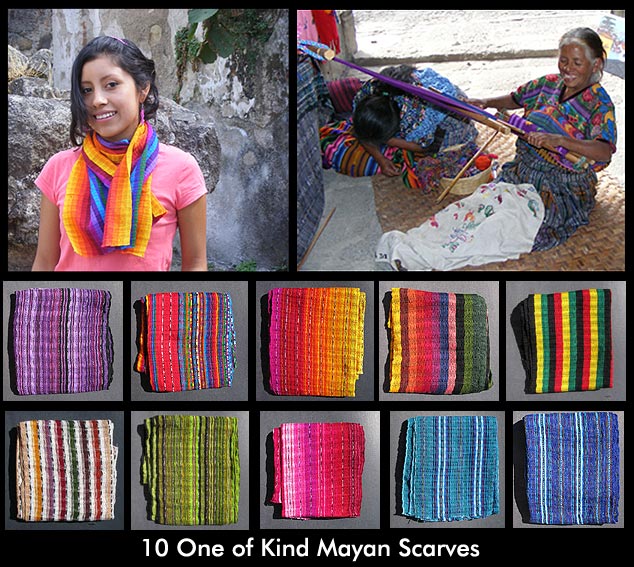 Mayan Scarves make great alter cloths and table decor.
We expect them to go fast!
$12.95 each
Click here
to order
Be notified about the next shipment from Guatemala.
admin@mayanmajix.com
If this announcement has been forwarded to you and you would like to sign up for our announcements the e-list sign up
box is located on our INFO CENTER page. Or you can e-mail me at admin@mayanmajix.com and I can sign you up.

Thanks so much for your support and WELCOME TO THE EVOLUTION!


MIKE
1 - Cauac
webmaster
Mayan Majix
http://www.mayanmajix.com
admin@mayanmajix.com
Twitter: @ Mayan_Majix
Facebook






Read past issues of our newsletter:



12/22/09 , 12/09/09, 11/13/09, 11/05/09, 10/14/09, 09/09/09, 08/20/09, 07/15/09,
06/15/09,06/10/09,05/15/09, 04/14/09, 03/11/09, 02/04/09, 01/15/09, 01/05/09, 02/12/10 ,
03/19/10, 03/24/10 , 04/29/10 , 05/20/10 , 05/26/10, 05/27/10 , 6/09/10 , 6/18/10 , 6/22/10 , 7/05/10
7/14/10 , 7/31/10 , 8/13/10 , 8/26/10 , 9/08/10 , 9/21/10 , 10/4/10 , 10/17/10 , 10/30/10
11/3/10 , 11/12/10 , 11/25/10 , 12/08/10 , 12/21/10 , 1/3/11 , 1/16/11 , 1/29/11 , 2/11/11 , 2/24/11
03/09/11 , 03/22/11 , 04/04/11, 04/14/11 , 04/17/11 , 04/30/11 , 05/13/11 , 05/20/11 , 05/26/11
06/18/18 , 06/25/11 , 07/4/11 , 07/17/11 , 7/30/11 , 8/12/11 , 8/25/11 , 09/07/11 , 09/20/11 ,
10/03/11 , 10/16/11 , 10/28/11, 10/29/11 , 11/11/11 , 11/24/11, 12/7/11, 12/20/11 , 01/02/12




Home \ Learning Lab \ Info Center \ Mayan Sites \ Daily Tzolkin
\ Articles \ Store \ Ian Lungold \ Links \ Contact