To view this announcement on line: click here





December 7 , 2011


Tzolkin Trecena Notes –1 Sun (Ahau)
Day 40 of the 260 Day Tzolkin
Gregorian Date: December 7, 2011
Year Bearer: 12 Eb

Trecenas are thirteen-day periods in the Tzolkin. Each Trecena starts with the Number 1, but with
a different Day Glyph. As a wave of the Thirteen Heavens, the underlying energy is governed by
the First Day Glyph of the Trecena and influences all thirteen successive Day Glyphs. Being aware
of the predominant energy of the First Day of the Trecena, we can align our intentions with that
energy and allow our goals to manifest.
This Trecena starts with 1 Ahau (Sun/Flower/Light Lord) – enlightenment, remembrance, honor
of ancestors, ascension, unconditional love, awareness of co-creation, awareness of new
possibilities and new beginnings, awakening to miracles.
Sun or Light energy represents source energy that compels us to seek our spiritual path. The
dreamer or visionary in each of us who follows his heart while remaining grounded (by earthly
ancestral wisdom) will complete the spiritual journey. Sun energy gives us the power to co-create
whatever we put our attention to. This energy of light resonates with new concepts.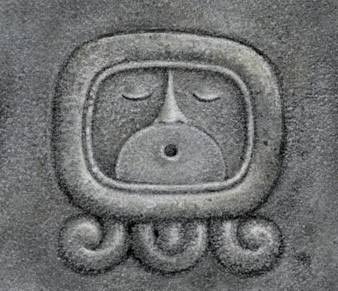 © 2006 Judith Ann Griffith
The Maya also called this day sign the Day of the Ancestors or Lords, which was considered to be
the most sacred of all days. Carlos Barrios in Book of Destiny states that this day sign has the power
to overcome negative energy. It "governs lunar and solar eclipses brings material and spiritual
certainty. It is the realization of the solar body. It is transformation, mutation, and acuity. It is the
warrior, the companion, the traveler, the dancer, and the artist, maker of wonders. It is the
soothsayer – the diviner and vanquisher of spells – the lord of flowers, master and heir to the
power of light." According to Kenneth Johnson in Jaguar Wisdom: "This is the day sign of all things
lordly and complete, including the world of the Ancestors, that lies behind our present moment,
linking us with times past in an endless revolution of days it is clear that it represents that ecstatic
process that connects us to the collective mind and to the cyclic flow of time itself."

Another representation of the Trecena is that of a creative wave beginning at 1 and ending at 13,
with the numbers 6, 7 and 8 representing the crest of the wave. The crest could be interpreted as
a strong influential energy, although the underlying influence on the Trecena would still rest in the
beginning. Light energy underlies (or influences) the days of 6 Chicchan, Serpent or Kundalini energy
rising up the spine connecting us with earthly and heavenly energies; 7 Cimi, Transformational
energy, death, rebirth and ancestral wisdom; and 8 Manik, Deer or Healing Hand energy,
representing the grounding of the 4-legged animals and the rituals which connect us to earth.
This pattern of light energy is available now and offers each of us the opportunity to heal our
spirit and heal Mother Earth.

As we journey through each day of this Trecena:



| | |
| --- | --- |
| Trecena Count | Gregorian Date |
| | |
| 1 Ahau (Sun/Light Lord) | December 7 |
| 2 Imix (Crocodile) | December 8 |
| 3 Ik (Wind) | December 9 |
| 4 Akbal (Night/Hearth) | December 10 |
| 5 Kan (Lizard/Seed) | December 11 |
| 6 Chicchan (Serpent) | December 12 |
| 7 Cimi (Transformation) | December 13 |
| 8 Manik (Deer/Healing Hand) | December 14 |
| 9 Lamat (Rabbit/Venus) | December 15 |
| 10 Muluc (Water/Offering) | December 16 |
| 11 Oc (Dog) | December 17 |
| 12 Chuen (Monkey) | December 18 |
| 13 Eb (Road) | December 19 |

Utilize the energy of Light Lord to look at your personal patterns and determine what is important
to your spiritual path in this moment. Pray and give thanks to the Ancestors for guidance as we are
in need of miracles right now. Collectively, we can send this love and light energy wherever it is
needed on Mother Earth. Que Milagro!

1)
Matty's journal updated - Click here


2) 1- Ahau Full Trecena Analysis by Eagle Solomon - Click here


3) Trecena Video by Scott Davis -
New World Birth - Care and feeding of a New World Age 2011-12-07





4) Kenneth Johnson on 1 - Sun (Ahau)

:


"1 Ahau (October 18): While the contemporary Maya do not necessarily endow the day Ahau with as much importance as New Age writers, it is an important day nevertheless. The day Ahau is symbolically linked with the mythic Hero Twins, and may endow us with courage, valor and heroism. Welcome in the new trecena by expressing our intention that we remain safe, that our homes be filled with harmony, and that those who have passed before us be remembered. Ahau has a special connection with the world of the ancestors; the rituals now celebrated during the Days of the Dead were celebrated on Ahau days in pre-Columbian times.
1 Ahau is a day upon which apprentice shamans are introduced to the Earth Mother by their teachers."
http://www.jaguarwisdom.org/blog/?p=111



5) Thanks to 4-Ahau.com for the December Tzolkin calendar.


6)
Your Help Please - Montezuma Well under attack again! - Click here to Sign Petition.



Montezuma Well National Monument is located in the Verde Valley in Northern Arizona. It is an ancient sacred and holy place and is a point of origination for the Hopi and Yavapai Indians . A commercial water company has drilled a deep well adjacent to Montezuma Well that draws from the same aquifer and has the capacity to pump over 1 million gallons a day severely impacting this sacred site.

Please sign our petition to demand an Environmental Impact Study be made on the potential impact of this commercial well . We are certain that our Mayan Majix family can help us reach the goal of 1,000 signatures.

You don't have to be a resident of Arizona to impact this issue. Montezuma Well in a National Monument.
It belongs to all of us. So please take a few moments and sign our petition - Click here
7)
Mayan Majix On-line Store

-

2012 Mayan Daily Guides

are now shipping!



Volume Pricing

is programmed in the shopping cart,

Wholesale

is available for large orders.

***Note from our jeweler - December 10th is the cut off date for orders to make it for Christmas in USA.***
Click here
If this announcement has been forwarded to you and you would like to sign up for our announcements the e-list sign up
box is located on our INFO CENTER page. Or you can e-mail me at admin@mayanmajix.com and I can sign you up.

Thanks so much for your support and WELCOME TO THE EVOLUTION!


MIKE
1 - Cauac
webmaster
Mayan Majix
http://www.mayanmajix.com
admin@mayanmajix.com
Twitter: @ Mayan_Majix
Facebook






Read past issues of our newsletter:



12/22/09 , 12/09/09, 11/13/09, 11/05/09, 10/14/09, 09/09/09, 08/20/09, 07/15/09,
06/15/09,06/10/09,05/15/09, 04/14/09, 03/11/09, 02/04/09, 01/15/09, 01/05/09, 02/12/10 ,
03/19/10, 03/24/10 , 04/29/10 , 05/20/10 , 05/26/10, 05/27/10 , 6/09/10 , 6/18/10 , 6/22/10 , 7/05/10
7/14/10 , 7/31/10 , 8/13/10 , 8/26/10 , 9/08/10 , 9/21/10 , 10/4/10 , 10/17/10 , 10/30/10
11/3/10 , 11/12/10 , 11/25/10 , 12/08/10 , 12/21/10 , 1/3/11 , 1/16/11 , 1/29/11 , 2/11/11 , 2/24/11
03/09/11 , 03/22/11 , 04/04/11, 04/14/11 , 04/17/11 , 04/30/11 , 05/13/11 , 05/20/11 , 05/26/11
06/18/18 , 06/25/11 , 07/4/11 , 07/17/11 , 7/30/11 , 8/12/11 , 8/25/11 , 09/07/11 , 09/20/11 ,
10/03/11 , 10/16/11 , 10/28/11, 10/29/11 , 11/11/11 , 11/24/11




Home \ Learning Lab \ Info Center \ Mayan Sites \ Daily Tzolkin
\ Articles \ Store \ Ian Lungold \ Links \ Contact